The Showman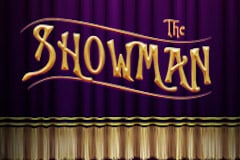 Looking for a little magic in your life? Try The Showman by Mutuel Play now at Rocket Slots! This intriguing slot games mixes expanding reels with bonus wilds and throws in some free spins to bring you a fun and rewarding experience.
Design
What good is an entertainer without a stage to stand on? Mutuel Play has delivered an excellent one to form the basis of their slot's background. A rich purple curtain hides the backstage but the clamshell lights and amazing drapery put us in no doubt that this is indeed a grand stage and a grander act to watch.
To go with this magnificence, Mutuel Play has given us a selection of wonderfully designed symbols. There are 4 which seasoned slot lovers might recognise from other games; an A, K, Q, and J in a curly royal script. The rest have all been specifically designed for this game, drawing on the theme of magicians and their acts. There is a bunch of flowers with a magic wand, a pair of gloves offering you your pick from a deck of cards, a pair of silver handcuffs and some chains, a guillotine, and a top hat with a rabbit.
The game's Wild is bedecked in the title and carries a small portrait of the Showman. The game also has two scatters; a target and the Showman's Assistant which starts the bonus game, and one with two pigeons which only appears in the bonus game.
How to Play
This game is very easy to play. Everything has been laid out smartly so it is right at your fingertips. Simply adjust your bet to a level you are happy with using the plus or minus to the right of the reels. Then all you need to do is hit the spin or select the autospin to let the reels turn by themselves!
To land a winning combination, you need three or more matching symbols along one of the game's paylines. To see all 15 of these paylines and find out a little more information about the game's symbols, be sure to take a look at the paytable.
Game Features
The Showman features 3 amazing bonuses for you to enjoy. Firstly, on any random turn, the Showman himself may wave his hands and make some magic happen. He will freeze one of the reels in place and then send it out to change all the reels to the same symbol. It is a fantastic way to land what is sure to be a brilliant win for you.
There is a second randomly occurring bonus; the free Wilds. The Showman will throw 35 extra Wild symbols out onto the reels and, when they stop, these extra Wilds may grab you an amazing win!
The final bonus is the free spins. These are triggered whenever 2 or more bonus symbols land across reels 1, 2, or 3. You can get between 8 and 2 spins and a multiplier of up to 5x to make every win that little bit better!
The Showman is tremendous fun to play and is sure to delight all slot players whether you are new to the format or looking for a new favourite. If you are looking for a little mystery in your life, try it for yourself today!
Game Stats
Paylines
15
Min. Bet
£0.15
Max. Bet
£225
Bonus Round
Various