Beehive Bedlam
How much pollen can you collect to win a big cash prize? Beehive Bedlam Reactors slot is a great game that is a little different to others that you might have played recently. This game features a honey jar on the left and a beehive cluster pay format. If you think you can spin a big win, make sure to give this game a try here at Rocket Slots.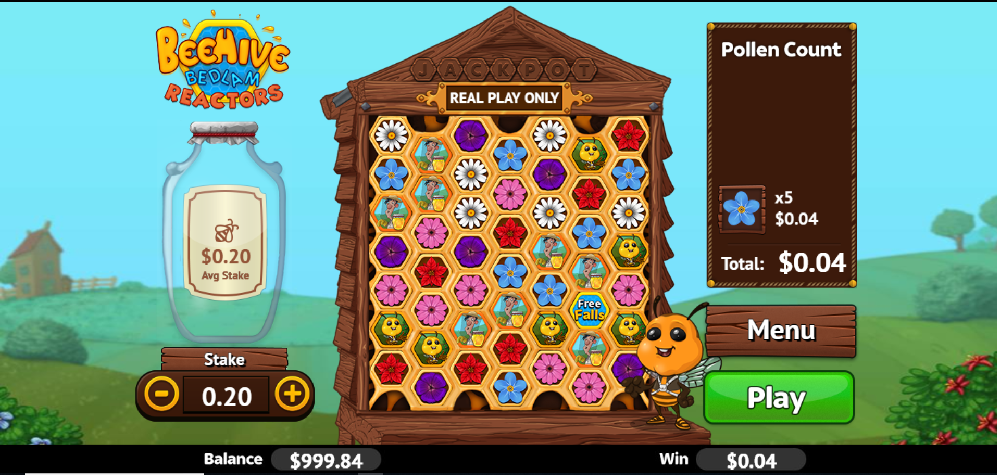 Design 
The design of Beehive Bedlam Reactors might be a little different to what you are expecting from a slot game but it is a lot of fun. The reels come in the form of a grid that is laid out like a beehive with honey. On these, you'll find a variety of symbols and they are all very colourful.
The high-value symbols in this game include the Queen Bee, the Boss Man, Buzz and the Daisy. The lower-value symbols come in the form of other coloured flowers. Each of these can be found on the paytable so it might be worth having a look.
How to Play
Think you have what it takes to win on this game? You're going to need to know how to play Beehive Bedlam Reactors. First, it is important that you know how much you are willing to stake per spin. The bets on this game can range from 10p to £500 per spin. The more you stake, the higher your possible prize so make sure to consider this.
Once you have placed your bet, the reels will be replaced with new symbols. Wins are awarded based on five connected symbols or more. Each win will be awarded based on the paytable and the more symbols you land, the higher the prize. Any prizes will be added to the Pollen Count over on the right.
Game Features
The most exciting feature in Beehive Bedlam Reactors is the way that the game is played. With any symbols that have awarded a prize disappearing, you can continue winning for longer! As you win, the Pollen Count will increase and honey will be added to the pot.
What is also interesting about this game is that you can unlock achievements as you play. This is a little different to how most other slot games are played but it can be very rewarding. Some of the achievements that you can unlock include triggering the Free Falls bonus 5 times or contributing to the honey jar.
In Beehive Bedlam Reactors, you can also travel around some different worlds. As you complete a world, you will move on and there are some achievements that are related to this. You can find out which country you are on in the menu for the game.
For those who want to win a jackpot prize, look out for the Free Fall symbols as you spin. This can be activated and help you land a very big win!
Beehive Bedlam Reactors is a lot of fun and we think that it is worth a spin. The game features are different from what we are used to but they are very exciting. If you are looking for a new game to play then we suggest that you take a spin on Beehive Bedlam Reactors. This game is available here on Rocket Slots.
Game Stats
Paylines
Cluster Wins
Min. Bet
£0.10
Max. Bet
£500
Bonus Round
Various