Viking Gods
Any Viking lover dreaming of the tales of old needs to spend some time spinning the reels of Loki and Thor in Viking Gods. Available to play now at Rocket Slots, this video slot has been jam-packed with features by its developers at Playson. It is bound to delight all slot players whether they are veterans or newcomers searching for their first adventure.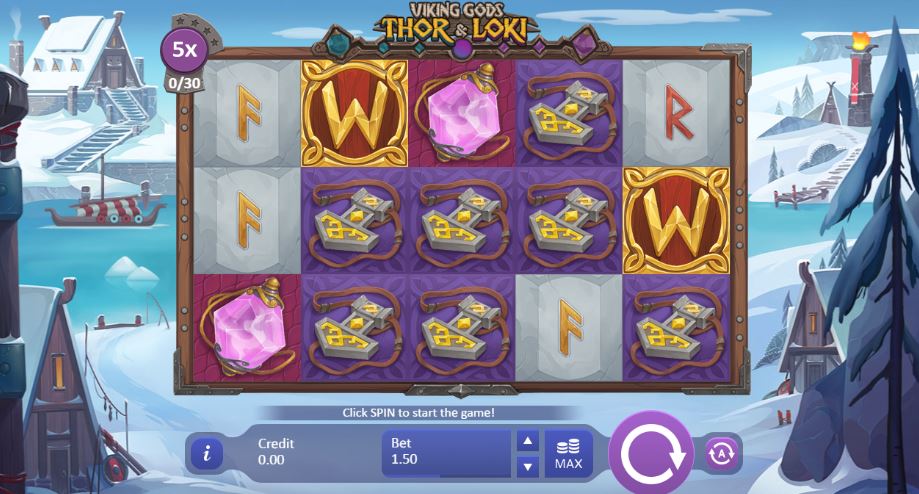 Design
Anyone familiar with Viking culture will be thrilled to see the details Playson have included in their game. From the snowy longhouses of the background to the small inclusions of iconic items like Mjölnir clutched in the hand of Thor, no attention to detail has been spared.
There are several different symbols available to help you land your wins. There are some mysterious runes, a necklace bearing a hammer standing upon an anvil, a brooch with two wolves, and an armband resembling a serpent.
The game also has pink and blue crystals which transform into scatters in the Bonus Games, golden Wilds, and depictions of Loki and Thor themselves.
How to Play
Like many other slots, Viking Gods can appear confusing initially, but any player will soon get to grips with it. Your bet can be adjusted using the controls at the foot of the game. Use either the arrows or the pop-up menu to choose a bet you like and then hit the spin to see if you have a win!
Wins are granted when 3 or more symbols run from left to right across the reels along one of the 15 paylines available in the game. There is a paytable available at the bottom of the screen, so you know exactly where these paylines are and how much each of the symbols is worth.
Game Features
The special features of Viking Gods are what boost the amazing playability of this game. There are 2 Free Spin bonus rounds, one for Thor and one for Loki. To activate their Bonuses, you need one of their symbols across all 3 rows in the game's centre reel. If you only catch part of their symbols, the Gods instead throw out Wilds which are sure to grab you a great win instead.
There are also 4 achievements you can fulfil in the main game. With all 4 achievements done, you get a free shot at either Thor or Loki's Bonus Game. They will then reset, giving you the chance to earn them again!
During Loki's Bonus, Sticky Wolf Wilds are thrown out onto the reels each turn. They will only vanish if they are part of a winning combo. Using the pink crystal scatters, you can earn more free spins and also unlock higher level Stickies that will stay around for multiple wins instead of just the one!
Thor's Bonus has one of our favourite game mechanics; the Colossal Symbol. Collect the blue crystal scatters for free spins and to grow the Serpent Wild from a puny 1x1 to a 3x3 monster. Since this is a massive tile is also a Wild, its jaws are sure to snap shut on a fantastic win for you.
Viking Gods is one of the most fun games we have played in a while. As well as offering you an amazing chance to earn some cash, you will want to keep playing until you've got all the achievements and you have seen each of the Bonus Games.
Game Stats
Paylines
15
Min. Bet
£0.15
Max. Bet
£90
Bonus Round
Free Games Bonus