Three Musketeers
Take your rightful place amongst these legendary heroes as you venture into the world of Three Musketeers! This fantastic video slot is available for you to try now at Rocket Slots and was developed by the innovators at Red Tiger. They have successfully taken some of the most well-loved slot mechanics and combined them with this elegant theme to create a slot that is sure to appeal to both gaming veterans and new players!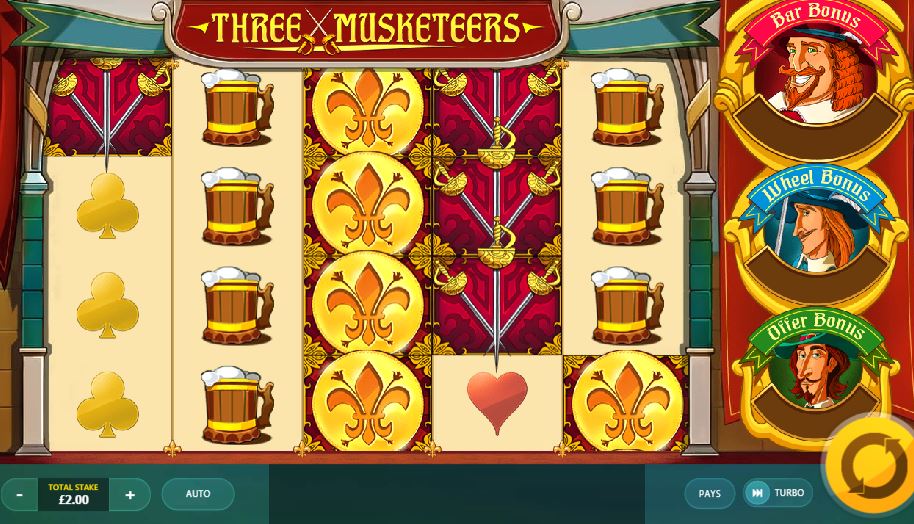 Design
Red Tiger have carefully designed a whole host of symbols for you to enjoy while you play their game. Anyone who has played a slot or two will spot the blue spade, red heart, green diamond, and yellow club among the unique symbols designed specifically for the game's theme. These special symbols include a froth-headed tankard, a plumed hat whipped straight from a Musketeer's head, a Fleur-de-Lis button, and the 3 blades of the 3 Musketeers.
The heroes themselves all have their own representation too with a scatter and a Wild apiece; Porthos in red, Aramis in blue, and Athos in green.
How to Play
Everything you need to play Three Musketeers is right there at your fingertips. Simply adjust your bet with the plus or minus symbols and then press the spin to see how the reels land! With 40 paylines, you are bound to land something! All you need for a qualifying win is 3 or more symbols on adjacent reels!
Further information about the paylines and the values of the symbols can be found in the paytable to the left of the spin button.
Game Features
Three Musketeers features all the best Bonuses a slot can offer; random Wilds, multipliers, instant wins and more.
You will most likely encounter the random Wilds mechanic first. During a spin, one of the Musketeers may decide to come to your aid and add some Wilds to the reels to grab you a big win. Porthos will fling his horizontally, Aramis will add his vertically and Athos will add his diagonally. They are a fantastic way to boost an already lucrative win even further.
If you land one of the Musketeers scatters on the reels, they will flick a random number of feathers from their hats to their portraits at the side of the screen. The bars underneath these portraits will then begin to fill; a completed bar will then grant you a shot at one of the game's amazing 3 Bonus minigames.
Fancy trying a game of wits against Athos? He will offer you the choice of 3 instant cash wins. With nothing to lose, you just have to work out whether he is offering you the highest option first or whether it is hidden further down the pile.
Porthos and Aramis both offer bet multipliers as their winning but in 2 very different games. Porthos will require you to guide him through a series of rooms until you find a multiplier. Just pick one of the 3 symbols he offers you to see in which direction he heads; there is a 500x multiplier waiting at the very end!
Aramis will offer you a spin of a windmill-shaped Bonus Wheel. With lucrative multipliers and the chance for extra spins all written right there on the sails, you are sure to land a brilliant win.
Three Musketeers takes classic mechanics like random wilds and gives them to you with a fun theme and all you need to grab a fantastic jackpot for yourself. Say it with us; all for one and one for all!
Game Stats
Paylines
40
Min. Bet
£0.20
Max. Bet
£40
Bonus Round
Various