Snow Wild and the 7 features
Are you ready to live happily ever after? Snow Wild and the 7 Features are waiting for you to join them. Available to play at Rocket Slots, this inventive adaptation of the fairytale we all know was handled by the folks at Red Tiger. Prepare to lose yourself in the story as you spin those reels for the chance to win big.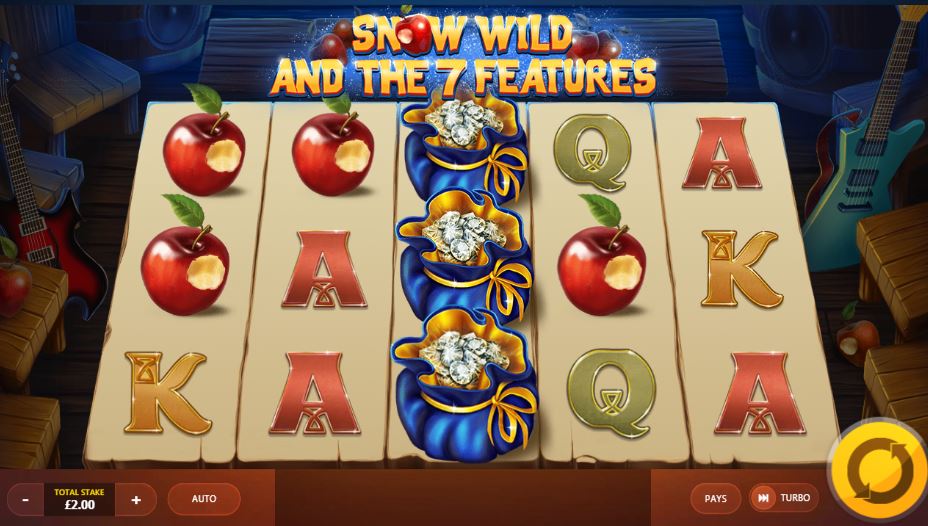 Design
The design for this game have been lovingly handled to bring the story into modern times while still retaining all its nostalgic charm. Snow is still the fairest of them all only now she has a gathered a collection of fun tattoos to add to her appeal. The Dwarves have all had worthy makeovers and yet still each retain a distinct feeling of individuality.
Those who have dabbled in slots before may recognise the 10, J, Q, K, and A symbols which make up the lowest-paying symbols in the game. They look lifted straight from a manuscript; no doubt a nod to the Snow White heritage. There are also 3 unique symbols made specially for this game; a pouch of gems, an overflowing pint of beer, and the iconic, red apple.
This slot also has a lightning bolt-emblazoned Lucky Wheel scatter that can appear on reels 1, 3, and 5, and a beautiful Wild; a small, gilded framed picture of Snow.
How to Play
Snow Wild and the 7 Features is as simple a slot to play as any we've encountered. Your bet is controlled using the plus and minus buttons in the bottom left-hand corner of the screen. You can also find the game's autospin function. In the right-hand corner is the paytable and the spin button. The paytable has all the information about the value of the symbols as well as some further information about the various Bonus Features there are on offer.
To play, all you need to do is hit that golden spinner and set the reels tumbling! You will land a winning combo anytime 3 or more matching symbols line up with one of the 20 paylines available in the game.
Game Features
This game is truly made by the extensive Bonus features available. Whether you fancy bonus Wilds with Boozy, respins from Tickly, or Instant Wins from Goldy, there is all that and more. If you have a favourite Bonus round in other slots, one of Snow's 7 Features will surely have something similar.
What's more, Snow herself can give you a boost to help you win even more. When you activate the Lucky Wheel to start the Bonus Game, landing on her will result in her choosing 3 of her 7 squeezes to all play one after the other. For you, this means 3 Bonus Games at once and 3 fantastic prizes.
Is this enough game for you? There's still more! Snow Wild and the 7 features also has an amazing Jackpot feature. All you need to win is three of those elusive Jackpot scatters.
There are no poison apples here. With Snow Wild and the 7 Features, slot veterans and newcomers alike can win big and relive the nostalgia of one of the world's most beloved stories.
Game Stats
Paylines
20
Min. Bet
£0.10
Max. Bet
£40
Bonus Round
Various