Leprechaun Song
Feeling lucky? Channel some of that luck into Leprechaun Song! This brand-new slot from the imaginative designers at Pragmatic Play is now available for you at Rocket Slots. Who needs to hunt for the Leprechaun's treasure when he is so willing to give it to you here!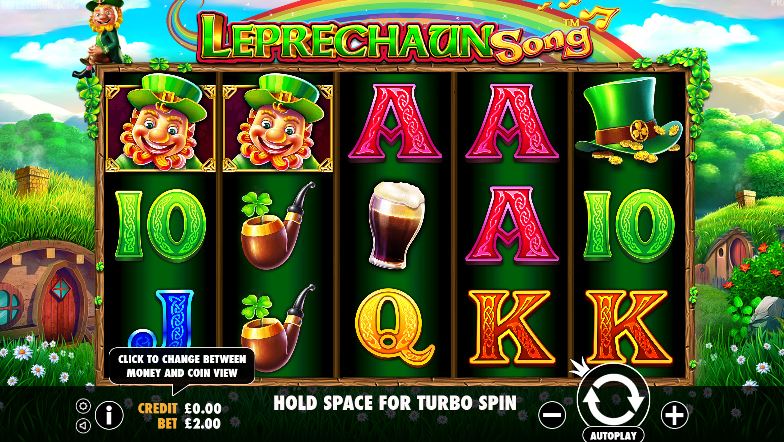 The Design
Leprechaun Song is a very visually attractive game with many of those lovely little details that add so much character game. These include the glittering rainbow across the top of the reels and the Leprechaun perched at one top corner to cheer you along as you play.
Symbols include some beautifully designed A, K, Q, J, and 10 tiles, a shamrock growing from a tobacco pipe, the Leprechaun's hat covered with a scattering of golden coins, a frothy pint of Guinness and a picture of the Leprechaun. The game also features a pot overflowing with gold to act as your scatter tile and a beautiful rainbow wild.
How to Play
Leprechaun Song is a nice, simple slot for anyone wanting an interesting foray into themed video slots. Your bet is controlled using the pop-up menu you can find beside the spin button. From here, you can control how many coins you are betting across the 20 paylines of the game and the value of each coin, perfect for those who wish to keep a close eye on their bets.
Pragmatic Play also offer extensive autoplay functions which are great for players who wish to tackle other tasks without losing control of their slots. Not only can you adjust the number and speed of the spins (perfect for those players who like a speedy game), you can also set limits to cancel the autoplay if necessary. This handy feature includes a stop in the event of a win, a loss greater than a limit you set, and many other options.
Game Features
This UK slot is also overflowing with bonus features sure to keep you playing until you've found them all. At any point during an ordinary round, the Leprechaun may choose to scatter a number of wild tiles on your reels, sure to net you a big bonus.
Also, keep an eye out for the Leprechaun in the corner pulling out his fiddle. Congrats, you just won a cash prize! All you have to do is click one of the fiddles he offers you and see how much you have won!
Finally, watch out for the appearance of the giant 3x3 symbol. Match this with another matching symbol for a big prize.
Keep going, you still aren't at the end of the rainbow yet! There are still the bonus games to discover! First, you have the chance to earn a whopping 6x multiplier on the Coin Collector game. Start with 15 free spins and a 2x multiplier and, with every 5 coins collected, increase your multiplier by 1!
You also have the chance to win with the Free Spins Picker! Choose one of the mushrooms on offer to earn multipliers and free spins and the chance to net a great prize. Both of these games are activated when you land the golden pot scatters across reels 1, 3, and 5.
With fantastic minigames and bonus features, we are certain Leprechaun Song will become one of your new favourites.
Game Stats
Paylines
20
Min. Bet
£0.20
Max. Bet
£100
Bonus Round
Various