Exotic Cats
If you are a fan of classic slot games with an interesting theme, look no further than Exotic Cats. Designed by the renowned slot developers Microgaming and available to play now at Rocket Slots, this game is great for both experienced slot lovers and newbies alike.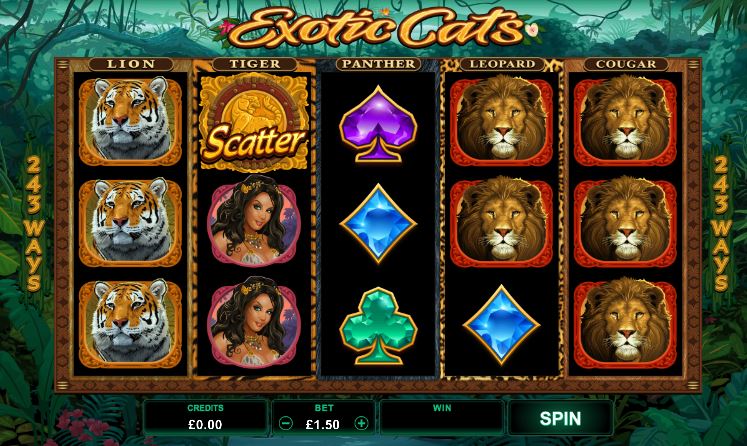 The Design
Like most of Microgaming's slot games, Exotic Cats is visually stunning. The game's background is highly detailed but does not distract you from the reels themselves. Each of these five reels belongs to one of our starring Exotic Cats. From the pitch-black of panther fur to the simple beauty of the tiger's famous stripes, each one can be seen on their respective reels. The game's control panels underneath the reels are also simply designed so as not to distract from the reels too.
As with many other slot games, the tiles are the true gems here. Your lower paying tiles are an emerald club, a sapphire diamond, a ruby heart, an amethyst spade, and a cat's pawprint surrounded by the treasure you are so whole-heartedly seeking. Higher paying tiles are an enigmatic young woman and each of the Big Cats; a fearsome leopard, a formidable panther, a regal tiger, a stately cougar, and the King of Beasts himself, a majestic lion.
Your settings and paytable are conveniently hidden in the tab on your left. Clicking here will allow you to access your audio and bet settings as well as a Quick Spin feature to help you reach your treasure even faster.
How to Play
One of Exotic Cats greatest features is its simplicity to play. Simply use that control panel down below to enter your desired bet and then press spin to see if you land a winner! Exotic Cats also has an Autoplay feature for those of you who like to sit back and let the wins roll in. Located right next to the Spin button, pick the option you like the most and prepare to net those wins as they come to you.
With so many tiles of the reels, you would probably like to know which ones will help you to grab those high payouts. With a match of 3 or more, the pawprint and the card suits will help form a winning combo. For our young woman and our Big Cats, you will only need a match of 2 or more to find a winner for you.
Game Features
As with so many slot games, Exotic Cats has some interesting features. You will probably encounter the Vertical Wild feature first. If one of the Big Cats lands in its own reel, it will trigger the Vertical Wild. With 5 reels and 5 Big Cats, it is possible to land 5 Vertical Wilds!
Also keep an eye out for the golden scatter tiles. With three or more of these on the reels, you will activate the Free Spins Bonus Games. Here, you are awarded 10 Free Spins to help you win big. What's more, the Vertical Wilds can also be used here, meaning you have an even greater chance of catching a big win during this fun bonus feature.
Exotic Cats is the perfect example of a classic slot game that runs beautifully without complicated bonus features. Grab your jungle gear and head to Rocket Slots today; the Exotic Cats are waiting for you!
Game Stats
Paylines
243
Min. Bet
£0.15
Max. Bet
£30
Bonus Round
Free Spins Bonus