Cabaret Royale
The innovative multi-line game Cabaret Royale has a mysterious twang to it where there are graphical cabaret characters and symbols appearing in each spin. There are three bonus features available in this game for you to explore. This slot game has been released by 2 by 2 Gaming who are already experts in this industry. You can play this slot game and lots of other slot games on the UK online slots site Rocket Slots now!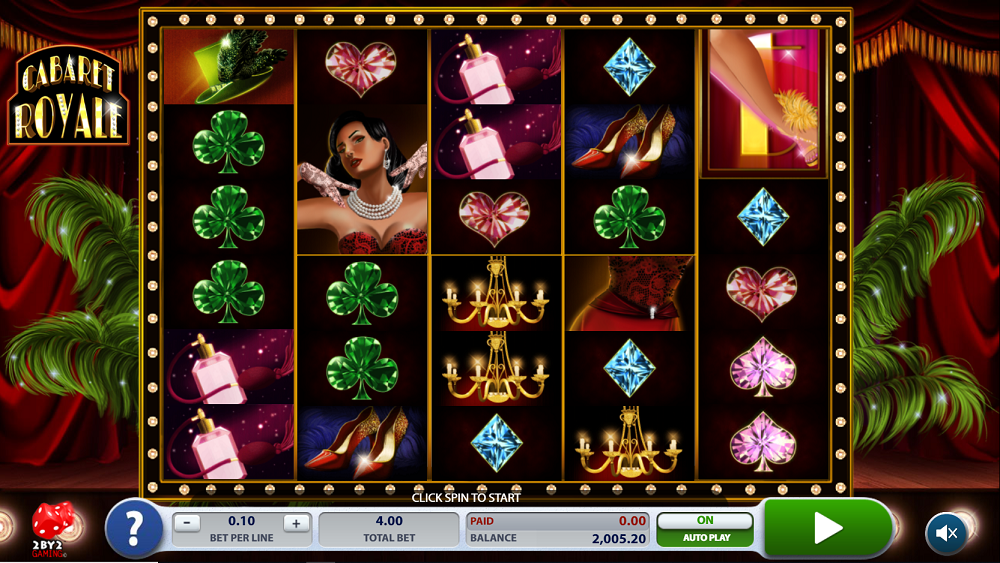 Design
There has been a lot of thought put into this slot game to make it a little more creative than your average online slot. Although it has a total of 8 reels however these are over 5 vertical lines. In lines 2,3 and 4 the vertical lines are split in two to give additional reels. The slot game has what looks to be a cabaret stage background and the characters are in the same sort of spirit.
There are two symbols that substitute as a wild, these are the dancing men and the dancing women. Some nifty tunes also playing in the background and if you manage to get a big win or special bonus, this intensifies significantly which adds to the overall entertainment experience.
How to Play
This slot will be easy for you to swing into whether you are a slots novice or an old hand. Place your bets at the foot of the reels and then choose from the manual spin and the autoplay to get started on the spins. If you want to know more about the value of each of the symbols, or to get some insight into how the bonuses work, make sure to look at the paytable.
Game Features
There is a total of 3 bonus features available on this slot game. This is more than you would normally expect to see on a typical slot therefore is another additional perk on this slot. The first feature is entitled "Encore" and is completely random. If you have a win, you may also trigger then Encore where the man or women will appear in the middle of your screen and give you an additional multiplier payout.
The second bonus is the matching wilds. You only receive the wild symbols in reels 1 and 8 and if you receive a full reel of the wild feature in any of these two reels then it will match it on the other. Depending on what symbols appear in the in-between reels will determine the payout value.
The final bonus feature that appears on Cabaret Royale is the free spins. If you manage to pull in 3 of the bonus symbols, then this feature will trigger. Before it goes on its way though, you will have a selection to make which includes the number of free spins and potential matching wilds and Encores you could receive. The free spins can also be increased if you spin in more of the free spins symbols whilst active within the feature.
Cabaret Royale is perfect for anyone searching for a little razzmatazz. Come to the Cabaret, old chum, and get ready to spin today!
Game Stats
Paylines
60
Min. Bet
£0.05
Max. Bet
£50
Bonus Round
Various