Big Kahuna
Are you ready to take a trip to the South Pacific in this fantastic Microgaming slot? Big Kahuna is a great game that is totally different from the usual games that we have here at Rocket Slots and this is why we love it so much. You can play some of the bonus features to increase your win or simply spin the reels and land a wild. Make sure to give Big Kahuna a spin today to see what you can win!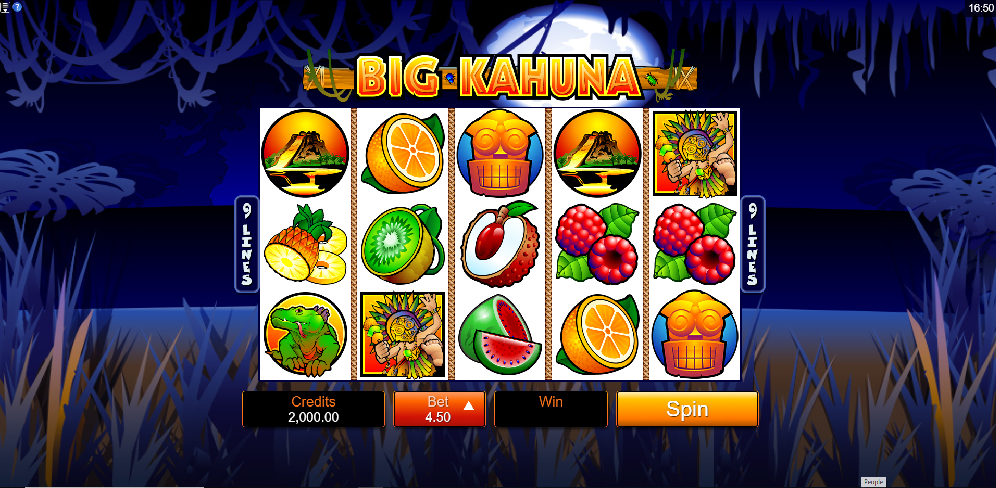 Design 
Microgaming has gone for an interesting design with this game and it isn't exactly clear what is going on. We think that the game is based on an island somewhere in the South Pacific filled with animals and plenty of tasty fruit. This is clear from the theme and design of the graphics.
The lower-value symbols in this game include the fruit symbols but these aren't what you are thinking. You'll find the kiwifruit, jackfruit and melons which add some colour to the reels. There are some higher-value symbols that include a masked statue and a dragon. Look out for these as you spin the reels on this slot.
How to Play
The great thing about Big Kahuna slot is that it is simple to play. You will need to figure out how much you can afford to stake per spin on this slot but once you have, you can get spinning. There are 9 paylines to bet across so choose carefully. The maximum bet is £4.50 per spin and the minimum is 90p. This can be easily adjusted and you can get on your way.
Wins are awarded for players who land a matching combination of symbols across one of the paylines. Make sure to take a closer look at the paytable to find out exactly how much each of the symbols are worth.
Game Features
The most exciting bonus in this game is the Volcano bonus and this will be triggered when you land three or more of the volcano symbols on the reels. You'll need to choose a piece of fruit to sacrifice and a payout will be given based on the fruit that you choose.
The wild symbol in this is the logo for the game and this is quite exciting. Landing this on the reels will allow you to make a winning combination as you will be able to see it swap out for any other fruit symbol.
The final bonus in this game is the Mask Bonus which is a mini-game that you will love. This can be triggered when you land three or more of the mask symbols on the reels across one of the paylines. There are 10 tiki masks to choose from and there are some big prizes on offer. Make sure to keep going until you are presented with the collect button.
Big Kahuna is a really fun slot and we know that you'll love it as much as we did. This slot game is packed with bonus features so make sure to give it a spin today and see what kind of reward you can end up getting your hands on!
Game Stats
Paylines
9
Min. Bet
£0.90
Max. Bet
£4.50
Bonus Round
Various