Aztec Secrets
Aztec Secrets by the gaming provider 1 x 2 Gaming is an Aztec themed slot game which is fun and is also filled with some amazing graphics and sound effects that you can enjoy. As well as great graphics and sound effects, you can be in for the chance to win big amounts of cash and especially with the bonus features in this game such as; free spins, wilds and more. If you think that this is a game that you would enjoy playing then, make sure you give it a go today.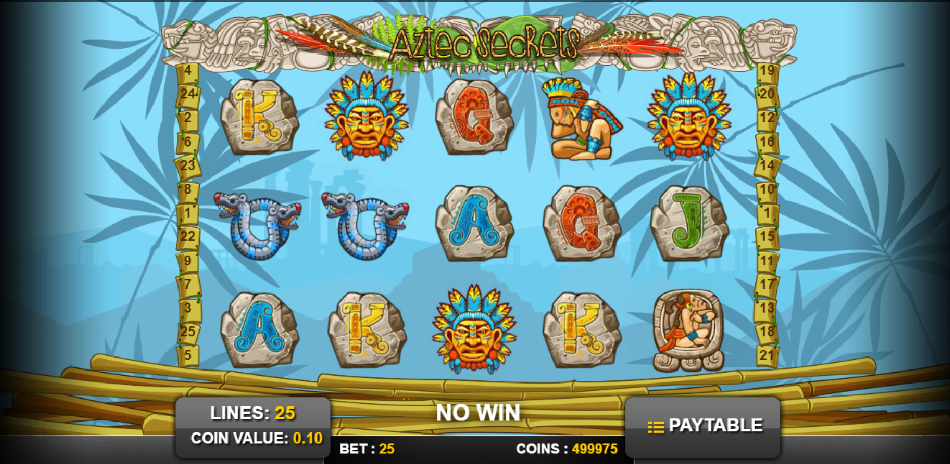 Design
You will find that there is an overall Aztec theme shown when you play the game Aztec Secrets. This theme is shown through the design and the images used in this slot. Make sure you have a spin and see the design of this game yourself.
When you play Aztec Secret, you will notice that the symbols in this slot tie in with the theme with. For example, the symbols in this slot are all Aztec themed and bright in colour. Some of the symbols feature masks while the others are animals that you would find in this kind of theme. Have a look at the paytable to see how much each symbol is worth.
How to Play
When you are ready to play this game, you should make sure that you read over the instructions and this is because you will be able to find out all the information that you need to know.
After reading the instructions, you will be able to place bets and start clicking the rotating arrow spin button on the side of the reel to start spinning. To place a bet, click the coin button and choose your amount. Bets range between 1p and £62.50 per spin on this slot.
Game Features
When you are playing Aztec Secrets, you will be in luck to win big and this is because of the features available in this game for you to enjoy. The game features in this slot include; scatters, bonus and wild symbols. Each of these bonuses can allow you to win a different prize so, make sure you have a look and see what each symbol can help you win.
The bonus symbol in this game can give you the chance to win big as the amount you win can be up to x4, the scatter symbol can give you the chance to win free spins and, the wild symbols can substitute for any prize if you can spin it on the right paylines. To activate any of these features you need to spin these symbols onto the reels at least 3 or more times.
Overall, the slot game Aztec Secrets is a fun and exciting slot that can give you the chance to win big if you are lucky enough. Make sure you give it a go today and see if you can be in for the chance to win big.
Game Stats
Paylines
25
Min. Bet
£0.01
Max. Bet
£62.50
Bonus Round
Free Spins, Scatter Pays