Ave Caesar
Ancient Rome is looking for a new Caesar and it might be your time to shine. Join the gang as you spin the reels and try to trigger the many bonus features that are within Ave Caesar slot. This game from Leander can be played at Rocket Slots so make sure to give it a try today!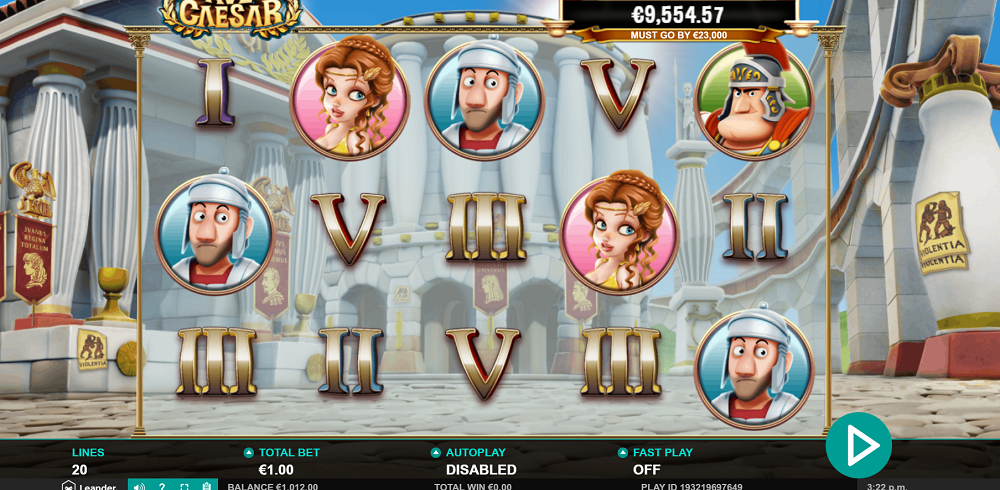 Design 
If you are a fan of cartoon-like designs then you will love Ave Caesar. This slot game features an Ancient Roman theme and this is clear from the main design. On the reels, there are some characters from the Roman empire that act as the higher-value symbols and some Roman numerals that act as the lower-value symbols.
In the background of this slot, you'll find an ancient building and plenty of statues. This shows the theme and makes the design quite interesting. You'll also notice the jackpot in the corner which slowly builds until someone wins it.
How to Play
Ave Caesar is a good game and Leander have decided to make it simple for beginners. All you need to do is use the tools at the bottom of the reels to place your bet and then press the spin button. While there are some bonus features, this is the basic game and it can be easy to pick up. When placing your bet, you can do this between 20p and £40 per spin. Once you are ready, press the spin button and watch the reels come to life.
Winning a cash prize on Ave Caesar involves landing matching symbols on a payline. There are 20 paylines and you can view these in full over on the paytable. If you win, your prize will be instantly added to your funds which is quite exciting.
Game Features
Ave Caesar is packed to the brim with bonus features and you'll be sure to trigger at least one if you spend some time spinning on this game. There are four randomly triggered features that include the Gaul feature which involves a village knocking down a Gaul. The Hannibal's Heroes feature will see a herd of elephants cross the reels and a prize revealed.
The wild symbol in this game comes in the form of Caesar himself. This symbol will swap out for any other symbol on the reels which is quite exciting. This way, you'll be more likely to secure a win!
To trigger even more bonus features, you will need to land three or more of the bonus symbols. The interesting thing about the final reel is that this will decide the feature. Will you trigger Caesar's Conquests, the Roman Empire, Glory Of Rome free spins or Druid free spins? You can also gamble on your bonus to make sure that you are getting the most for your money.
Make sure to check out Ave Caesar today for your chance to win a lot of cash. Each spin will give you the opportunity to trigger a bonus feature so place your bet here on Rocket Slots and see if you can get lucky!
Game Stats
Paylines
20
Min. Bet
£0.20
Max. Bet
£40
Bonus Round
Various, Jackpot