Art of the Heist
Make your journey through the museum and see what treasures you could be able to walk away with when you play the slot Art of the Heist by the gaming provider Playson. This slot can give you plenty of chances to win some lost treasures while you play so, make sure you don't miss out. When you play this slot, there are fantastic prizes on offer that you could be in for the chance of winning if you are lucky enough. Not only can you win some amazing prizes, but you could also win some free spins and unlock bonuses during this game. If this sounds like a slot game that you would like to play then, make sure you head over to Rocket Slots today to see what you could be in for the chance of winning in this slot game.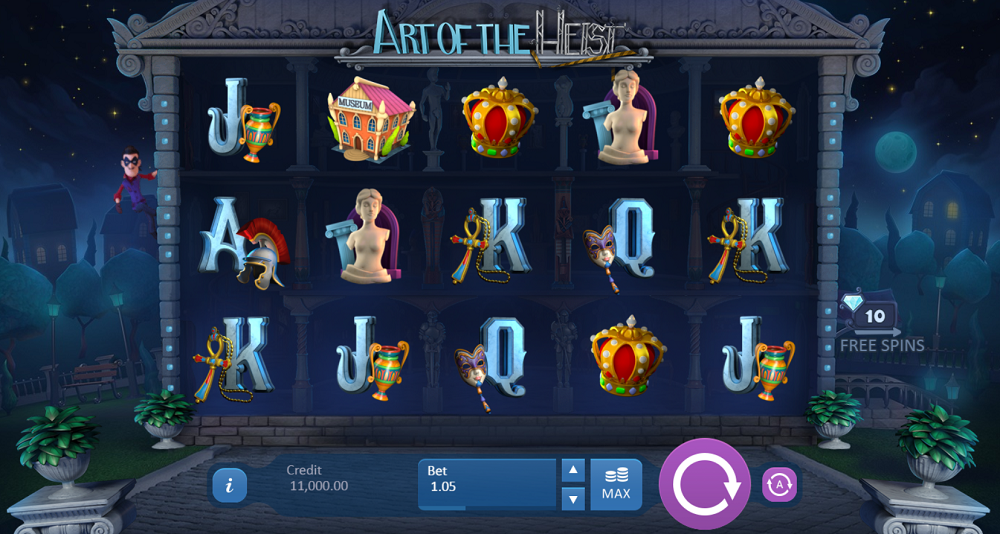 Design 
Symbols used in this slot include museum exhibits such as; a crown, a Greek statue, an Egyptian mummy as well as a security guard and an image of the museum building. These are the symbols worth higher amounts in this slot game. The letters A and K with the helmet and sword are the lower-paying symbols along with the other letters Q and J with the mask and the vase. There is also another symbol which is the security device, which can come in use. This us because this symbol can allow the robber to move up to 3 steps forward during the main game.
How to Play
If you have played slot games before then, you will find that this slot is very similar to other slots. However, even if you know how to play the game, it is always better to give the instructions a quick read over. These instructions can tell you everything you need to know about the game and will give you some early insight into what to expect from the bonus features.
Game Features
When playing the slot game Art of the Heist, there are plenty of game features for you to enjoy when you play such as bonus games, free spins and more features. During the main game, you can be in for a chance to activate the Robber's Pathway. This can allow the robber to move back or forward on the game field when the special symbol - the security system symbol, is activated. The wild symbol is the chest, and this can add 1-2 free spins to the counter. The painting can trigger the bonus game with the secret treasure room. The Egyptian mummy can put the robber back some steps and the security can block the symbols for up to 3 spins.
Overall, this slot can be fun for you to play and, especially if you are lucky enough to make some huge wins. Make sure you head over and play today to see if you can win big.
Game Stats
Paylines
21
Min. Bet
£0.21
Max. Bet
£105
Bonus Round
Free Spins, Expanding Wilds