Arcade Bomb
If you are on the hunt for a traditional slot game with a twist, you need to check out Arcade Bomb from Red Tiger. This is a fun game ready to explode with fun for those willing to take a chance on it! Try it for yourself now at Rocket Slots.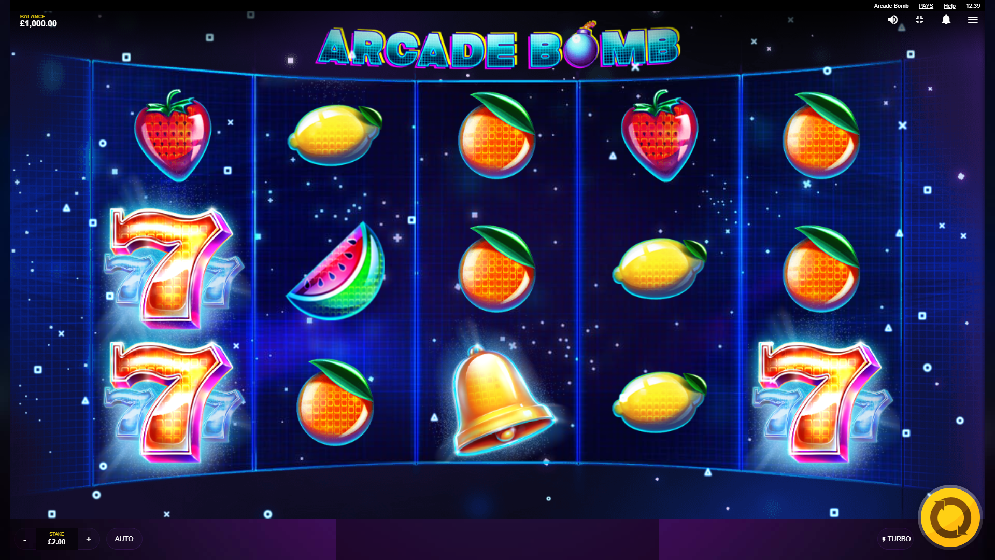 Design
We love the retro feel this game has. Red Tiger has done a brilliant job keeping the old-school spirit of the old arcade games alive through this game. The background is minimal so we can focus all of our attention on the reels and the soundtrack is lively and puts us right back into a retro arcade. If the music is not to your taste, it can easily be turned off again.
When it comes to the symbols, they are funky reinterpretations of the classic slot symbols. The lower paying symbols are everyone's fruity favourites; the cherry, lemon, orange, strawberry, and watermelon. Mid-range symbols are the BAR symbol and the golden bell, and the highest paying symbol in the game is, of course, the classic 7.
There is also a bonus symbol in the form of a ticking bomb. The bomb comes in four different colours – yellow, blue, green, and pink – and it forms a very integral part of the game's bonus feature.
How to Play
Red Tiger has kept it relatively simple when it comes to the gameplay. This is great for all players whether you are a newbie attempting to find your feet or you are a veteran who wants more of a chilled-out game.
On the far right, you will find the yellow spinner. Tap this to spin the reels and see if you can land a win; it is truly that easy to play. Right next to it lies the turbo boost to make those reels fly past even faster. To the far left lies the autoplay. If the manual spin is not your style, you can select up to 100 free spins complete with a loss limit to halt the gameplay if you are worried about losing too much.
Right beside the autoplay is the stake where you can choose your bet based on a predetermined set of values. No matter how you want to bet, you will find yourself well catered for here.
Game Features
Arcade Bomb is a great game anyway, but the Bomb Blast feature truly helps to push it forward even further. It is possible to win up to 1000x your initial bet with this feature which is truly incredibly!
 When you land a bomb on the reels, it becomes sticky and shows a countdown of how many spins you have until it explodes. Each colour of bomb will explode in a different pattern. The yellow bomb explodes in a direction directly above and below it. The blue bomb explodes to the left and the right. The green bomb explodes in all four directions, while the pink does the same but on the diagonals.
An exploding bomb pushes a symbol out onto the reels in these directions and if they hit another bomb with their blast then it will explode too regardless of where its countdown is. This is a brilliant way to quickly try to rack up a sizeable win and you have to try it for yourself to properly see it in action.
Overall, Arcade Bomb is a great game with a lot of promise. If you are a fan of the more traditional slots, you are going to want to see how Red Tiger has changed things up here.
Game Stats
Paylines
20
Min. Bet
£0.20
Max. Bet
£100
Bonus Round
Bomb Blasts