Ancient Fortunes: Zeus
If you are looking for a slot game full of history then play the slot game Ancient Fortunes: Zeus by the gaming providers Microgaming. This slot game is full of both stunning and exciting graphics, bonus features which include up to 70 free spins and the chance to win some huge cash prizes.  Play this slot game today at Rocket Slots to see what cash prizes you could win.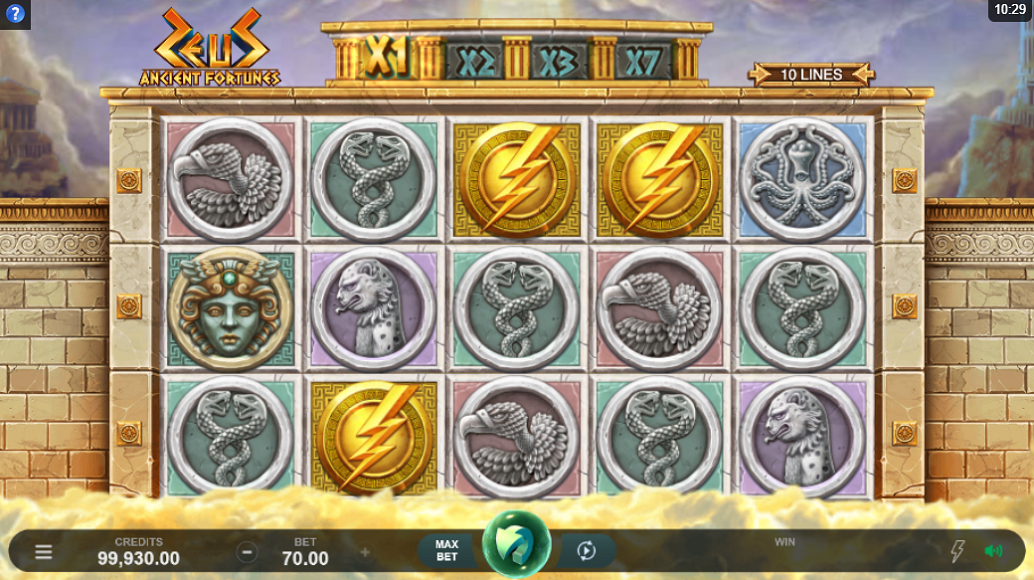 When you play the slot game Ancient Fortunes: Zeus by Microgaming, you can enjoy some amazing graphics, plenty of bonus features which can help you win some great cash prizes. Make sure you spin today and see what you can win in this Greek-themed slot.
Design
This slot game is filled with some brilliant graphics that are also aesthetically pleasing to look at with the colours and symbols used. The theme of this slot game has an Ancient Greek theme and this can be seen in the background and on the reel and even with the name of the slot itself. In the background, you will be lifted above the clouds with occasional lightning bolts flying across the screen. The background is full of gorgeous blue and gold colours that give an overall luxurious feel to the game.
The symbols match well to the theme as they symbolise Greek mythology. Each symbol is worth a different paying amount, for instance, some are high paying and others are low paying. The symbols worth a smaller amount are the snakes, the leopard, an octopus and a vulture. The symbols worth a higher amount are the different Greek Gods with different coloured backgrounds. You might notice Ares, Dionysus, and Hermes, and Poseidon in particular.  
How to Play
To play Ancient Fortunes: Zeus it is fairly simple if you have played other slot games before, this is because all you have to do is choose an amount you want to bet and click the spin button. However, if you don't understand how to play slot games or you would like to find out more information about Ancient Fortunes: Zeus then you can read the instructions. This will give you a better understanding of how to play the game, what the symbols are and how many paylines there are.
After the instructions have been read you can then begin to place bets by clicking the bet button and selecting an amount. The betting amounts in this game can anything as little as 10p or as high as £70 and you can change the amount you want to bet at any time by clicking the '+'or '-' or by clicking on the button and clicking on an amount.
Game Features
In this slot game, there are some brilliant bonus features that you can enjoy if you are lucky enough to spin them onto the reel. The Wild symbol is Zeus himself and if you spin this on the reel you could win some high amounts as it substitutes for all symbols. If you land 3 or more lightning bolts on the reel you could be in for a treat as you will be able to win some free spins.
Take a spin and play the slot game Ancient Fortunes: Zeus for the chance to earn some brilliant prizes today.
Game Stats
Paylines
10
Min. Bet
£0.10
Max. Bet
£70
Bonus Round
Various