Aladdin and the Sorcerer
Take a trip to the Middle East sand desert and help Aladdin to defeat the sorcerer villain in the slot game Aladdin and the Sorcerer by the gaming provider Pragmatic Play. As you play not only can you enjoy amazing graphics and chances to win big, but you can enjoy brilliant bonus features so, what are you waiting for? Head to Rocket Slots to play this slot today.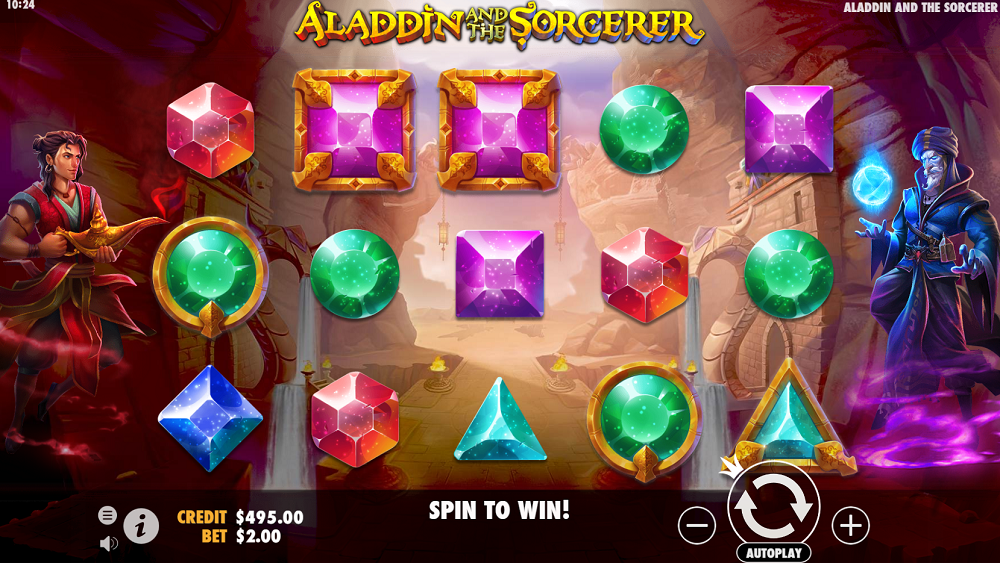 Design
The design of this slot game shows an overall Middle Eastern theme with the sandy deserts and scorching sun. This theme is shown throughout the game as you play and through the design of the game which you can see as soon as the game loads. Pragmatic Play games are known for being particularly beautiful and this game is definitely no exception.
Like all slot games, there are different symbols that appear on the reel and each of the symbols on the reel are worth a different amount. The symbols look more or less the same but the higher-paying ones are circled by gold. They are all gemstones and include a red hexagon, a purple square, a blue diamond, a turquoise triangle, and a green circle. There are also a wild and two wild scatters featuring Aladdin and the Sorcerer each.
How to Play
When you play Aladdin and the Sorcerer, you will find that this slot is very similar to other slot games that you can play online. Before playing this slot, make sure you read over the information so you can find out where the paylines are, how much the symbols are worth and the different bonuses that are available in this game.
After you have read the instructions on how to play this slot game, you will be able to start placing bets and start spinning for your chance to win big in the Aladdin and the Sorcerer slot.
Game Features
As you play the slot game Aladdin and the Sorcerer, you will find that there are some brilliant game features for you to enjoy. These features include free spins and wild symbols which can lead you to some huge wins if you are lucky enough. To kick off some free spins, land both the opposing scatters on the reels. Aladdin and the Sorcerer will begin to battle it out. Land their scatters and they will each score a point against each other. If Aladdin loses, the round ends. However, if the Sorcerer loses then you will advance to the next stage of the battle. Try to defeat him as much as possible for the chance to gran extra wilds and win multipliers of up to 3x.
Overall, the Aladdin and the Sorcerer slot game is a brilliant slot that you can play for the chance to win huge amounts of cash. Make sure you head to Rocket Slots today for your chance to win big.
Game Stats
Paylines
20
Min. Bet
£0.20
Max. Bet
£100
Bonus Round
Respins, Win Multipliers