7-UP
With victories sweeter than the soda, you need to try 7UP! today! This beautiful arcade style game was developed by Gamevy and is available for you to try now at Rocket Slots!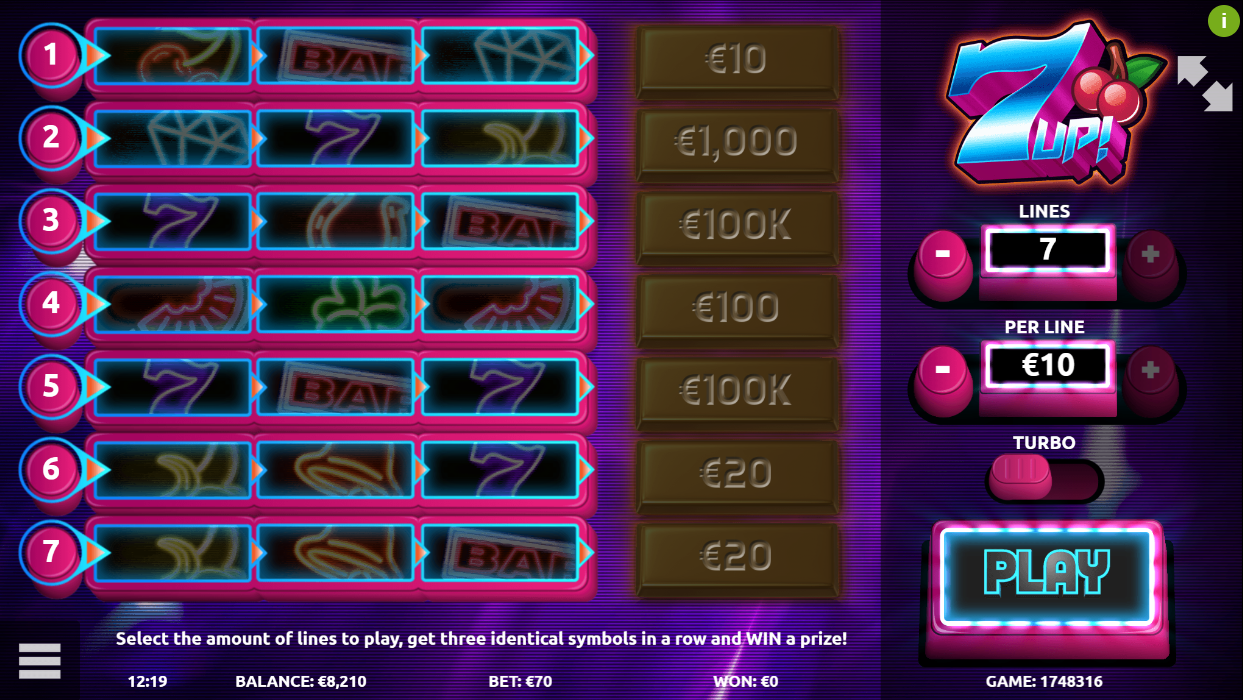 Design
The first thing you will probably notice about 7UP! is its fun techno soundtrack. Between its electronic beats, the fun trills of the sound effects, and the bright neon symbols, we could easily mistake this game for any classic arcade game from the 80s. The symbols themselves may be simple neon outlines against a black background but they are fun and definitely add something to the game.
Lower paying symbols include various fruits many will recognise from classic fruit machines. There are lemons, cherries, bananas, pineapples, grapes, and watermelons. The higher paying symbols include a clover, a horseshoe, a diamond, a bell and the bar symbol. The symbol in the game with the highest worth is the lucky number 7. Will it bring you a great win?
How to Play
7UP! is a scratch card so it plays out very differently from a slot. However, some of the basic pre-spin set up is exactly the same.
The first thing you need to do is decide how many of the lines you want to bet on. There are 7 in the game and you can select just one or all of them if you want. Simply use the controls on the right to choose.
Just below it is the bet per line controls. With bets available between 2p and £10, you are always in complete control over how much you want to bet at all times. Whether you are playing for a small thrill or are on the hunt for a big win, everything is available to you here.
Finally, all you need to do is hit the play button to see if you can land a win!
Game Features
This is a scratch card game which ultimately means that there are none of the special features which make slots so memorable. If you are a massive fan of crazy free spins rounds and extra bonuses being added to your reels with every turn, this might not be the game for you.
Yet there is still plenty about 7UP! which makes it a massively appealing game. If you are a fan of instant win features in slots, you might enjoy a scratch game like 7UP! for that exact reason. The gratification you get from the instant wins in scratch games is immense and everyone is sure to love it.
The prizes in 7UP! are also not to be sniffed at. At a max bet, three 7s in a line will grab you an amazing £100k. This obviously means that 700k will head your way if you somehow manage to land a board of completely 7s. We know that not everyone can or wants to play with max bet and that is OK. The lower levels of pay still offer some brilliant opportunities for you to clench an amazing win.
If you are tiring of slots and are looking for something familiar yet different, 7UP! might be the perfect game for you! You should also definitely check it out if you are looking for a game which is wonderfully retro. On this front, it can never disappoint!
Game Stats
Paylines
7
Min. Bet
£0.02
Max. Bet
£70
Bonus Round
Scratch Card