7 Monkeys
Join the colourful bunch of monkeys as you take a spin on the exciting new slot game from Pragmatic Play. 7 Monkeys is available to play on Rocket Slots so make sure to get spinning today to see what you can win!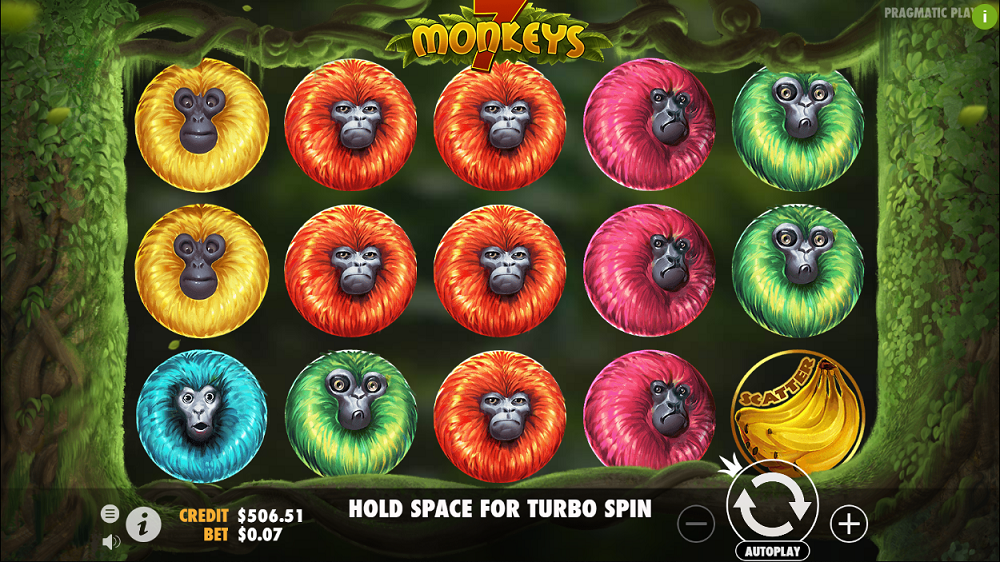 Design
Pragmatic Play have gone for a colourful set of symbols in this fantastic slot game. The background is green just like the jungle where you would expect to find the monkey in 7 Monkeys, but the actual symbols do a great job of standing out.
The symbols on this game tend to be quite simple with only 5 main symbols appearing on the reels. The highest paying monkey is the yellow one and the lowest paying monkey is the pink one. Of course, you'll also find a bonus symbol on there in the form of a bunch of bananas which fits perfectly with the theme. Pragmatic Play have also added a multicoloured wild symbol which is a baboon in fitting with the theme.
How To Play
Now that you know all about the design of the game, you'll need to know how to get those 7 Monkey reels spinning! Everything you need to play this slot is along the bottom of the reels including the spin button on the right and the stake adjustment buttons on either side of it. As you increase your stake, you'll see it increase over on the bottom left of the reels.
Players who are able to land 3 or more of the same winning symbols on the reels will be able to redeem their cash prize. Details of the payouts are over on the paytable so make sure to find out more about these to see what you are looking for as you spin. Once you start spinning, you'll see just how easy 7 Monkeys is to play so make sure to try it out today.
Game Features
Pragmatic Play have added an exciting free spins feature which can make your prize fund soar if you are lucky. To be able to get your hands on the cash, you'll need to land three or more of the scatter symbols on the reels. These symbols look just like a bunch of bananas and they come with different rewards depending on how many you land. For landing three bananas, you'll get a huge 50 free spins with a 1x multiplier. For 4 bananas, you'll get 100 free spins with a 2x multiplier and for 5 bananas, you'll get 150 free spins with a 3x multiplier.
The free spins feature on 7 Monkeys really is bananas and you'll be incredibly happy if you are able to get your hands on the huge 150 free spins. Of course, if you are lucky during the free spins round, you can also get 15 more free spins to play with if you are able to land three more of the banana symbols on the reels.
Pragmatic Play have clearly put a lot of thought into 7 Monkeys with its exciting bonus round and fun graphics. Join in on the fun today with 7 Monkeys and see if you have what it takes to bet big and win that huge jackpot or the 150 free spins!
Game Stats
Paylines
7
Min. Bet
£0.07
Max. Bet
£35
Bonus Round
Free Spins