40 Joker Staxx
If crazy bonus rounds aren't for you, 40 Joker Staxx might be! The innovators at Playson have developed this new take on the traditional fruit machine and you can check it out for yourself now at Rocket Slots.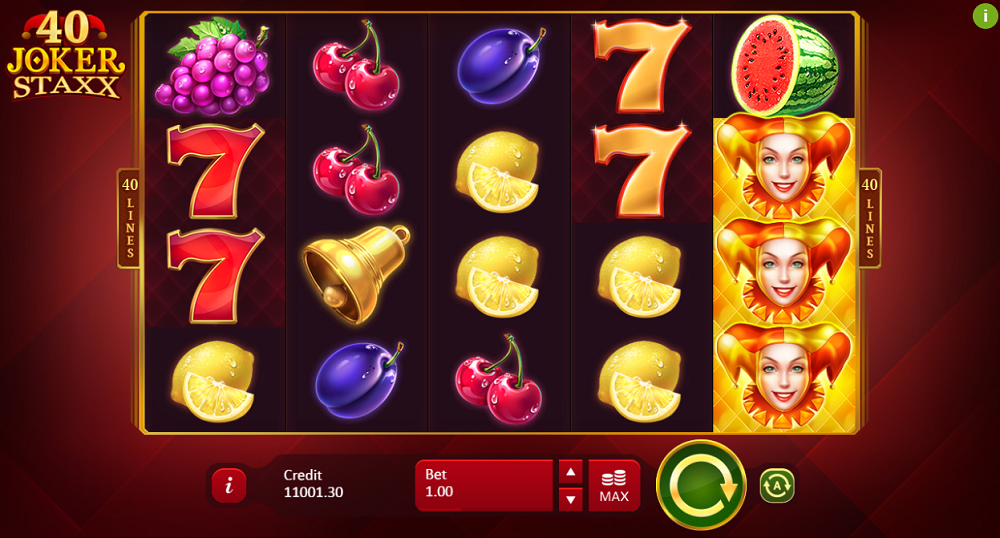 Design
Simple to look at but still as beautiful as any slot on the market, 40 Joker Staxx is packed with details sure to delight your eyes. The choice of red for the background gives this game a rich feeling and keeps everything minimal enough to keep our eyes on the reels.
We expect a game from Playson to have the highest quality of designs and we are not disappointed. The symbols here are superb and really bring an extra something to the play experience. There is an orange, some cherries, a lemon, a plum, a watermelon, and some grapes. Playson have also included some old friends in the form of the bar symbol and the gold bell as well as the 7 in both red and gold.
The Wild is the Joker; grinning in her traditional floppy hat. The highest paying symbol in the game also serves as the scatter; a five-pointed star.
How to Play
Playson like to keep things simple even for those who have never played before; that's why they have placed all their controls in a handy bar underneath the reels. If you would like to know more about the game's payouts you should check out the paytable on the far left. In the middle of the reels are the bet controls. By either bringing up the pop-up menu or using the arrow keys, you will be able to select your ideal bet.
When you are ready, all that will be left to do is hit the spin! Whether you want to spin one turn at a time or select an autoplay setting, the choice is yours!
Game Features
Obviously, this game is based on traditional fruit machines which did not have very many bonuses. Therefore, it is to be expected with this game that there are indeed no bonus rounds. That means no crazy features or extras, just the gameplay as you see it.
There are some advantages to this. The game still has Wilds which means that you may be able to grab a win where there may not have otherwise been one. It is an extremely powerful symbol which is why so many slot developers are happy to include it.
The only true bonus, as such, is the scatter symbols. If you land three or more of them in any position on the reels you will get a payout! You don't need a payline for a valid win, just three matching scatters! It is an older mechanic but it is certainly valid and will hopefully lead to you grabbing some great wins.
Some players may feel turned off by the lack of bonuses but we know that there are those out there who appreciate the simpler games. If you are looking for a brand-new traditional slot to play, this might become your new favourite game. Try it for yourself now!
Game Stats
Paylines
40
Min. Bet
£0.20
Max. Bet
£100
Bonus Round
Scatter Pays